Advice comes and goes when it comes to diets, but one remains strong. Don't skip breakfast! Years of research and numerous studies have shown that starting your day with a heart healthy breakfast will result in long term benefits. Eating this important meal can help you lower your cholesterol, lose weight, maintain good blood sugar levels and give you energy for the rest of the day. Make healthy choices so you don't ruin the benefits with bad diet decisions.
Healthy Breakfast Good for Your Heart
1. Crunchy Topped Oatmeal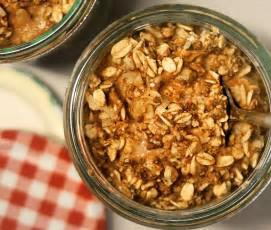 This heart healthy breakfast choice is easy to make, yet satisfies your hunger all morning long. To make, simply put ½ cup of old-fashioned dry oatmeal in a bowl and add just enough water to cover oats. Microwave the mixture for 3 minutes. Add vanilla or almond extract to sweeten. Top with crunchy nuts, ground flaxseed or seeds.
2. Lite-Style Almond Bread
Almonds are considered one of the nuts healthy for your heart, partly because of its omega-3 fatty acid content. Using in lieu of saturated fats, nuts can decrease bad cholesterol and fight against plaque.
Ingredients
2 ½ cups almond flour
1 tablespoon ground flaxseed
1 teaspoon baking soda
1 tablespoon honey
1 cup yogurt
¼ teaspoon salt
3 eggs, whites separated
Directions
Preheat over 300 degrees. Flour and grease loaf pan.
Combine almond flour, flaxseed, baking soda, and sea salt in bowl and set to side.
Whisk together yogurt, honey and egg yolks in a separate bowl and then add to flour mixture.
Beat egg whites in another small bowl until stiff peaks form. Gently fold into mixture and then pour into greased loaf pan.
Bake for 45 minutes or until inserted toothpick comes out clean. Cool, slice and serve.
3. Egg and Cheese English Muffin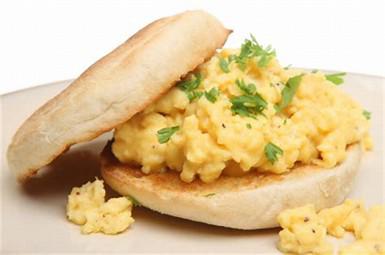 A whole-wheat English muffin is a great substitute to white toast or a bagel. If you are in a hurry, you can cook your egg in the microwave, skipping the need to break out the frying pan. Simply whisk an egg, adding chopped vegetables, in a bowl. Microwave for 50 seconds to 1 minute until fluffy and firm. Put egg mixture on muffin, add low-fat cheese if desired, and top with other half of muffin to make a delicious heart healthy breakfast sandwich.
4. Blueberry-Almond Oatmeal
Oatmeal is a great way to start your morning, as it is full of properties that fight the absorption of bad cholesterol. Adding the antioxidants in blueberries and the omega-3 fatty acids in almonds provides you with a healthy and delicious breakfast.
5. Pita Egg Sandwich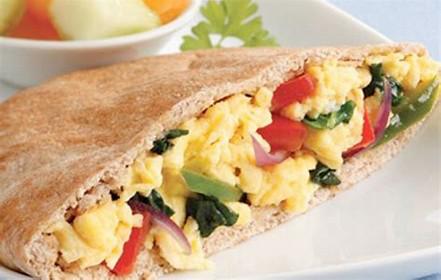 Instead of a regular tortilla made of white flour, consider making an egg sandwich with whole-wheat pita bread. Lightly coat a skillet with cooking spray and turn on burner to medium heat. Add ½ cup of clean, fresh spinach leaves, 3 tablespoons of no-salt added diced tomatoes and a 1 teaspoon of diced onion. When mixture is warm, pour ½ cup of egg white mixture or egg substitute over vegetables. Cover until cooked. Top with low-fat shredded cheese. Place into pita bread with sliced opening.
6. Raisin Walnut Muffins
Raisins are full of potassium and walnuts have monounsaturated fat, both of which are good for your heart. Add in the antioxidants from the other ingredients, and these muffins provide a good start to a heart healthy breakfast.
Ingredients
½ cup whole wheat flour
½ cup all-purpose flour
¼ cup quick oats
1 ½ teaspoon baking soda
¼ teaspoon ground nutmeg
¼ teaspoon salt
¼ teaspoon ground cinnamon
1/3 cup sugar
¼ cup vegetable oil
2 eggs
1 grated carrot
1 grated, unpeeled apple
1/3 cup chopped walnuts
½ cup raisins
½ cup chopped prunes
Directions
Preheat over 350 degrees. Spray with cooking spray or insert paper liners in 12-cup muffin pan.
Toss sugar, oil, carrot, egg, prunes, apple, walnuts and raisins in a bowl.
In another bowl, mix flours, baking soda, oats, spices and salt.
Mix both mixtures until blended and divide equally into each muffin cups.
Bake 15 to 20 minutes or until inserted toothpick comes out clean of muffin center. Cook for 5-10 minutes before removing from muffin pan.
7. Almond Butter Banana Waffle Sandwich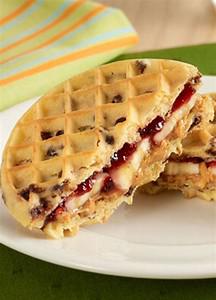 Almond butter, bananas and whole-grain frozen waffles make for a delicious breakfast sandwich that is easy on the heart and the waistline. Simple to make, it is a great breakfast for the person on the go. To make, toast 2 waffles until crispy. Spread almond butter on one waffle. Top with sliced banana. Place other waffle on top.
8. Avocado Salsa Breakfast Sandwich
Avocados are full of healthy fat, the kind that helps you trim your waistline and is good for your heart. In fact, studies have shown that people who eat a diet rich in avocados increase their good cholesterol by over 10% and lower bad cholesterol by as much as 20%. To make, add 2 egg whites in a pan coated in cooking spray. Add low-fat cheese and scramble. Cook until done. Place egg on one half of whole-grain English muffin. Top egg mixture with sliced avocado and salsa. Put remaining half of muffin on top.
9. Vegetable Egg Omelet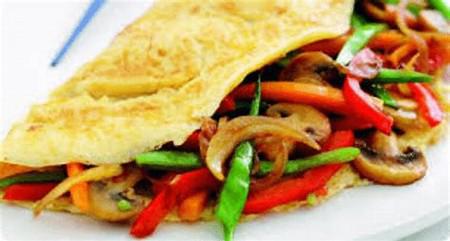 A vegetable egg omelet can be as healthy as you want it to be. Use egg substitute or egg white to start. Pour scrambled egg into a hot pan coated with cooking spray. Add ½ cup of heart healthy vegetables and shredded low-fat cheese. When cooked, fold over one half and remove from pan. You can serve with a whole-grain English muffin, if desired.
10. Heart Healthy Breakfast Burrito
Sometimes breakfast burritos get a bad rap. However, if you cook them to be heart healthy, they can provide a very satisfying meal. Warm a whole-wheat tortilla. Scramble 1 egg with spinach, tomato, onion, bell peppers and garlic in a hot skillet coated with cooking spray. When egg mixture is completely cooked, scoop onto tortilla and roll into a burrito.
11. Berry Rich Parfait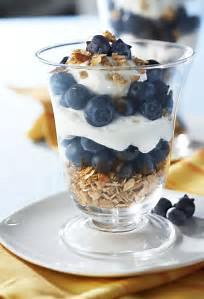 Studies have shown that dairy foods are good for your heart and helps maintain healthy blood pressure levels. Mixed with fresh berries and oats, you end up with a breakfast full of antioxidants and key nutrients needed for overall well-being. To make, blend low fat cottage cheese with 1-2 tablespoons of confectioners' sugar and a few drops of vanilla extract until creamy. Put a layer of mixture on bottom of parfait cup. Add layer of granola oats. Add layer of blueberries. Continue layering until parfait cup is full.
12. Smoked Salmon Frittata
Salmon is known to be rich in omega-3 fatty acids, selenium and good proteins, all shown to be good for your heart. Making a frittata is a great way to prepare a healthy and delicious breakfast.
Ingredients
6 egg whites
4 whole eggs
2 teaspoons extra virgin olive oil
1 ½ fresh minced tarragon
3 scallions, chopped and trimmed
¼ cup cold water
½ cup fresh arugula
3 ounces smoked salmon, thinly sliced
Directions
Preheat oven 350 degrees.
Heat an 8 or 9-inch ovenproof pan to medium heat. Spray bottom with cooking spray.
Add olive oil and heat on stove for 20 more seconds. Add scallions and cook until soft.
Mix in bowl eggs, egg whites, water, and tarragon. Salt and pepper to taste. Pour into heated pan. Place salmon slices on top.
Cook on stove for 2 minutes. Move pan into oven and cook for 8-9 minutes more.
Remove from pan and slice to serve. Garnish with arugula.