Nowadays a variety of highlighter kits, professional tints and chemical treatments are available to change your hair color. However, if you require a gentle, natural lightening agent, then one is present in your own tea cabinet – the chamomile tea. Chamomile is a medicinal plant that is utilized for centuries to treat ailments of the stomach and salves. Its golden color and flavonoids present in it may lighten and brighten your shafts of hair slowly and gently over time.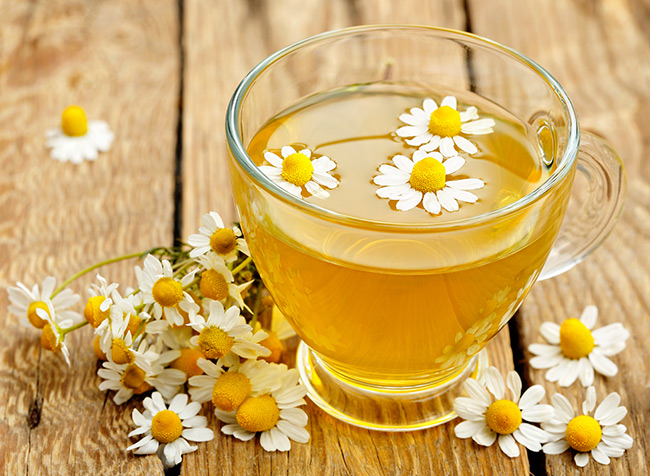 How to Use Chamomile Tea to Lighten Hair
By rinsing your hair with chamomile tea, you can easily incorporate this medicinal plant in your beauty regime.
Take few cups of boiling hot water and steep 5 chamomile tea bags in it. Allow this mixture to steep till it becomes cool.
Remove the chamomile tea bags and rinse your still damp, conditioned and shampooed hair strands with this tea.
Do not wash your hair with plain water; instead let them air dry. The tea will work while drying.
This process results in brightening of the hair, especially in females who have light hair. A subtle effect of brightening is seen in brunettes, instead of a complete change in color. This also lightens highlights done at salon gently without damaging them. You can continue rinsing with chamomile tea every few days to change the color of your hair slowly and to produce golden highlights.
Chamomile gives good results with numerous other natural ingredients that lighten hair. Mix a cup of strongly brewed chamomile tea with a tsp of coconut or almond oil and juice of few lemons. Keep this mixture in a spray bottle.
How to use chamomile tea to lighten hair? Spray this mixture of lemon and chamomile tea on your hair before going out in the sun. Focus the mixture on areas where you want a lighter color. Noticeable results may be produced by the combination of chamomile and lemon in one day even on the hair of brunettes.
Other Natural Ways to Lighten Hair
Besides chamomile tea, let's discuss some other natural ways to lighten hair:
Go outdoors: The sun produces a natural effect of bleaching on your hair apart from tanning the skin. Hence, on a sunny day, leave your strands open and go out in the sun. Just keep in mind to apply sunscreen to prevent sunburn.
Go swimming: Since time spent while swimming outdoors and in the sun often overlaps, it's difficult to differentiate the bleaching effect of each process. However, bleaching of hair is not caused only by the sun, the chlorine and salt in the pools and ocean also works to brighten your hair color. Hence, go swimming into a nearby pool or ocean and your hair will become lighter in no time.
Wash your hair with vinegar: Rinsing your hair regularly using apple cider vinegar works to brighten and lighten your hair strands slowly over time. Try it instead of chamomile tea to lighten hair.
Use baking soda: When you go in the shower, sprinkle some baking soda in your hair and rub it nicely. The paste that forms will naturally bleach your hair.
Apply a honey mask to your hair: Use honey to make a mask for your hair. Take a small amount of distilled water and mix some honey with it. Apply this paste to your hair. Allow it to remain on your hair for around 30 minutes or even more. Honey and distilled water when combined undergo a chemical reaction that helps in the lightening of hair very fast. To quicken the process, you can go out in the sun for the time the honey paste is on your hair.
Use vitamin C to lighten your hair: Vitamin C is not only essential for your health but also a great ingredient to lighten your hair. Use some vitamin C tablets on your hair, instead of consuming them. Crush around 5-10 tablets (depending on the thickness and length of your hair) and add this powder to the shampoo you use to wash your hair. Washing your strands with this mixture will give them a dose of some bleaching nutrients.
Use hydrogen peroxide: Though using hydrogen peroxide is not those dying techniques that you can categorize as most natural, still it can be used to lighten your hair in the comfort of your home. Use hydrogen peroxide to rinse your strands and leave it for around 10-15 minutes in the hair before you rinse it with water. Try this on a small area initially to ensure you are satisfied with the color it produces.
Use black tea: Apart from chamomile tea to lighten hair, black tea also does wonders. Black tea is rich in tannic acid that can highlight your hair slowly over time. Brew a couple of cups of strong black tea and rinse your hair with it. Let it remain in the hair for around 30 minutes. Rinse with lukewarm water.
Rub olive oil: Olive oil not only nourishes your hair, but also produces natural highlights in them. Apply olive oil on your hair and leave it on your hair for around 30 minutes. Wash your hair when you no longer want oily hair and you will find that your hair is generally brighter than before.
Spray lemon juice on your hair: Lemon juice has been used since centuries to get bleached hair and is an oldest and effective technique to lighten your hair naturally. Put lemon juice in a spray bottle. Spray some of it on your hair. Let your hair dry for around 20 minutes. Rinse your hair with water. Your hair may become dry by using lemon juice frequently; hence, mix some oil into it to keep your strands soft.