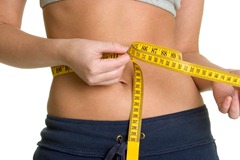 One stone is the equivalent of 14 pounds. In order to lose this kind of weight in one month, you would have to lose an average of 3 ½ pounds every week. Many experts believe that losing more than two pounds a week is very difficult to sustain and might even make you sick. However, this can be done safely, with careful attention to your diet and a serious exercise plan that will help you burn additional calories, which will then lead to quick weight loss.
How to Lose a Stone in a Month in 3 Steps
This is a three-part plan of attack. You must pay careful attention to your diet, exercise every day to burn calories and relieve the stress in your life. Here's how to lose a stone in a month with the above 3 methods.
1. How to Lose a Stone in a Month with Healthy Diet
The first and most important element of losing weight is your diet. No matter how much you exercise, if you are putting too many calories into your body, you won't see the proper results. Always start by evaluating what you are eating and make changes accordingly. Paying close attention to your diet starts with knowing what the right foods are, which ones will help you lose weight, and which ones will defeat the purpose.
Water. When you are dieting, water should be at the top of your list for what you put into your body. Water will not only help you flush impurities from your body, it will allow you to fill up on something other than food, and that can help with portion control and willpower.
Veggie and Fruits. If you can become a vegetarian for a while, do it! You will enjoy the benefits of fewer calories but tasty food, plenty of fiber and the good feeling of putting only the best foods into your body.
Fiber and Protein. Remember that you need to have a good source of fiber and protein. Look for whole grains, vegetables and fruits that are loaded with fiber, and turn to things like nuts for protein.
Homemade Foods. If you are making your food at home, then you know exactly what's in it, and you can count the calories easily. If you find that you don't have much time to make homemade foods, make twice as much when you do cook and freeze the rest. Soon you will have plenty of home cooked meals that just need to be heated.
Small but Regular Meals. Eat regularly, but make it small. If you keep it to small meals, you are less likely to overeat and more likely to be full throughout the day. Five to six meals is what is usually recommended.
Breakfast. A healthy breakfast that includes fresh fruits is a great way to start your day. It will keep you from getting too hungry and gives your body an energy boost to start things off right.
Foods to Avoid. Cut out any processed, fatty or fried foods. Avoid drinking carbonated beverages or those high in fate, such as whole milk. And never, ever have fast food!
These very simple recipes can get you started on great dieting to lose a stone in a month:
Chicken. Stuff a chicken breast with a mixture of blanched spinach leaves, tarragon and lemon zest. Sear the breast in a hot pan and then cook through in the oven for about 20 minutes or until juices run clear.
Healthy Chips. Slice potatoes, boil them in water for ten minutes, then pat them dry and place on a baking sheet. Spray them with cooking spray and bake them at 400 degrees for 20 minutes or until crisp.
Lamb Kebabs. Put marinated lamb pieces on skewers, alternating with veggies like squash, cucumbers and tomatoes. Grill them on a hot grill for about 20 minutes or until the lamb is done to your liking.
Pawn Paella. Blend onion and garlic with stock and cook until tender. Add chopped tomatoes and dried rice, cooking until the rice is done. Season to your liking, and then add prawns and veggies, such as green peppers and green beans. Cook until heated through.
2. How to Lose a Stone in a Month with Proper Exercises
The point of exercising when dieting is to burn more calories than you take in. When you burn more than you eat, you naturally lose weight. Studies have shown that three weeks of serious exercise can help you lose weight faster than any diet plan ever could.
Cardio Exercises. When you exercise, you need to target both your cardiovascular system and strength training. Cardiovascular exercises include walking, swimming, running, cycling, and things that make you move hard, such as squash or tennis. During one week, you should have at least three sessions of cardiovascular exercises.
Strength Training. For another two or three exercise sessions, engage in strength training. You can start this with a simple pair of dumbbells that you use at home, or simple weights that are designed to be used on your own without a spotter. Using these materials can help you boost your metabolism, and that means you will burn calories much faster.
Here's a great plan to get you started with exercising:
Week 1 Plan

Butts

Place the feet shoulder-width apart, and then bend the knees until you feel the burn. Come back to standing. Repeat this several times.

Arms

Sit on the floor with your hands behind you. Lift your butt, keeping the weight on your hands. Do this numerous times.

Legs

Put one leg one stride ahead of the other. Then lower yourself to the ground, feeling the burn in your thighs and calves. Rise up, and then repeat.

Chest

On your hands and knees, put your hands on a stair or step, and then press your chest toward the floor. Rise back up. Do these push-ups several times.

Waist

Lie on your back and lift your legs and hands toward the ceiling. One at a time, lower your leg or hand to the floor, then rise back up. Do this numerous times.

Week 2 Plan

Butts

Using a chair to hold your weight, do squats just as you were before, but with one leg only.

Arms

Do this exercise as before, but this time extend one leg out, so you are only using one leg to touch the ground.

Legs

This week, extend the space between your feet as you do the lunges.

Chest

This time, don't use a step or stair. Do the push-ups as you did last week.

Waist

This time, lower your arm and leg at the same time, alternating between them.

Week 3 Plan

Butts

Don't use the chair this time, but add weights for more burn!

Arms

Keep your feet on one stable chair and your hands on another, dipping your rear down when you do this exercise.

Legs

Use a step or a stair, so your lunges will have longer to go.

Chest

This time reverse the first week, and keep your hands on the floor while your knees are on a stair or step.

Waist

This time, add weights to your exercise.

Week 4 Plan

Butts

Hold a water bottle in each hand as you do this exercise.

Arms

This time, rest something heavy on your lap.

Legs

Keep something in each hand as you move.

Chest

This time keep your feet on the step, not your knees.

Waist

Now hold a water bottle in each hand as you move.
3. How to Lose a Stone in a Month by Managing Your Stress
Finally, remember that stress can easily lead to emotional eating. Avoid that by reducing stress whenever you can. Stress management techniques, such as meditation, yoga and music can work wonders.